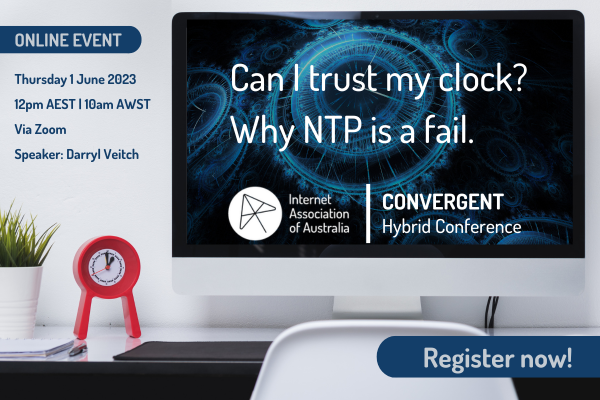 Join us for this Online Convergent Event
Title: Can I trust my clock? Why NTP is a fail.
Date: Thursday 1 June 2023
Time: 12pm AEST/ 10am AWST
Venue: FREE Online Convergent Event, hosted on Zoom
Registration: Open to all via the IAA Portal
Register now for your chance to see Darryl Veitch's brilliant presentation on Network Time Protocols, just how bad they can be and some new ways forward.
Professor Veitch is based at the School of Electrical and Data Engineering at the University of Technology Sydney, and is a member of the GBDTC (Global Big Data Technology Centre) where he runs the timing laboratory.
Darryl gave this presentation at our recent Melbourne Convergent Event and has kindly offered to represent it for you at this live, online event. Registration is free and open to both IAA Members and non-members via the IAA Portal. Tell your friends and colleagues!
Member registration                                  Non-member registration
By RSVPing for this event, you are agreeing to comply with IAA's Code of Conduct – Events.