Speeches, cake cutting and socialising – must be the WA-IX event!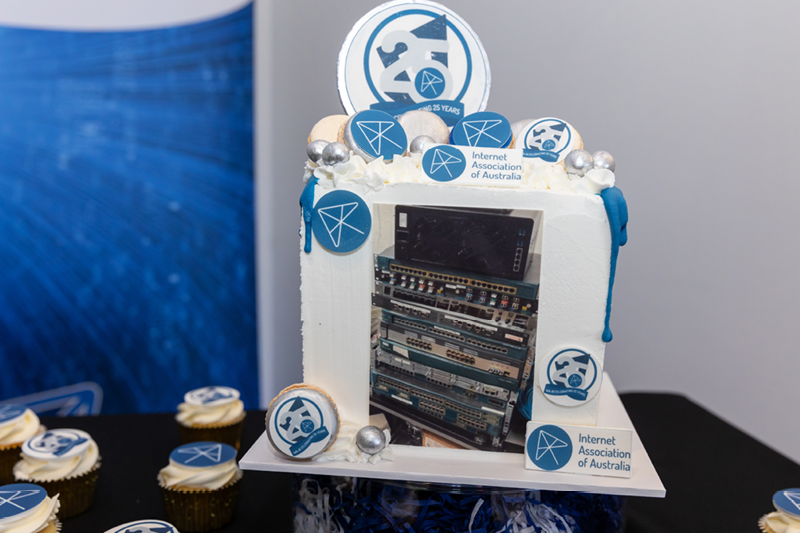 To quote Frankie Valli & The Four Seasons, 'Oh, what a night'. Thank you to all who came and celebrated an incredible milestone – 25 years! The evening began with the AGM and quickly moved into the more informal, celebratory portion – WA-IX's 25th birthday celebration. With a great turnout, we enjoyed the opening remarks from our wonderful CEO, Narelle Clark, followed by a very passionate Welcome to Country delivered by Elder Len Collard – we even received a traditional emblem showing permission for IAA to operate on Whadjuk Nyungar country. Chief Digital Officer Jonas Petersen from the WA Government soon followed with a great speech, finishing off with the incredible Michael Malone talking about WAIA and WA-IX and what it meant for the fledgeling ISP industry.    
The evening buzzed with excitement, and food and drinks continued to flow until the big, delicious WA-IX cake was cut. Michael Malone, Narelle Clark, Anna Protoolis, James Bromberger and Mark Dignam gathered around and finished marking the celebration as they all cut it together.  The evening ended with a couple of special mentions and went straight back into lively chatter. It really was a wonderful celebration, and we hope you all enjoyed it – event photos are now available to view in the Photo Gallery.  
Cheers to 25 years!