It's official! IAA is a Great Place to Work.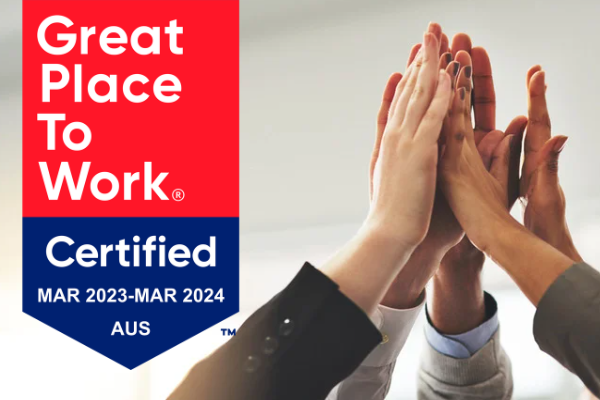 We're delighted to announce that we have been awarded Great Place to Work® Certification. We now feature on the Great Place to Work portal, where you can learn more. We will wear this new badge with pride as a sign of a positive employee experience. In receiving this accreditation, we join the ranks of Cisco, Google and American Express. Great Place to Work is a globally recognised employee validation program.
On our first attempt at achieving certification, we received an impressive 86% overall satisfaction score. This score is based on a comprehensive employee survey and a detailed questionnaire about our workplace. Because employee feedback and independent analysis determine the scores, our certification can give future employees confidence that we genuinely offer a great company culture.
Hiring and retaining talent has never been more important or more challenging for all employers, so earning this certification means a lot to us.  We aim to be an employer of choice and foster a healthy workplace culture.
Undergoing the Great Place to Work assessment gave us some real insights into what we're doing well and some opportunities to improve.
Comments from team members included:
"Excellent flexibility working from home, and ample opportunity to attend to outside of work commitments and requirements and make up the work later when it suits."
"As a relatively small team, everyone is very busy but still happy to help each other out. We have lots of opportunities to grow in the industry, such as participating in industry forums and conferences."
"Genuine flexibility and care from the management. Know how and understanding of the Internet and industry. Our status and respect as a trusted player in the industry."
Of course, we are always looking ways we can be even better and look forward to repeating the process annually so that we can keep track of our progress. In this way, you can always be confident that creating a safe and happy workplace is at the heart of everything we do.
If you or someone you know are looking for a progressive and proactive place to work, check out our latest career opportunities on our website.
Our success in achieving Great Place to Work Certification is all thanks to our awesome team. Each and every one of them has contributed to making this possible and we're pleased to share their achievement with you.