Internet Association of Australia

Annual General Meeting 2023
Thank you to all of our members for attending and voting in the 2023 Annual General Meeting.
Congratulations to the successful candidates Brett O'Hara (three-year term), David Hooton (three-year term) and Matthew Moyle-Croft (one-year term).  A big thank you to all the nominees.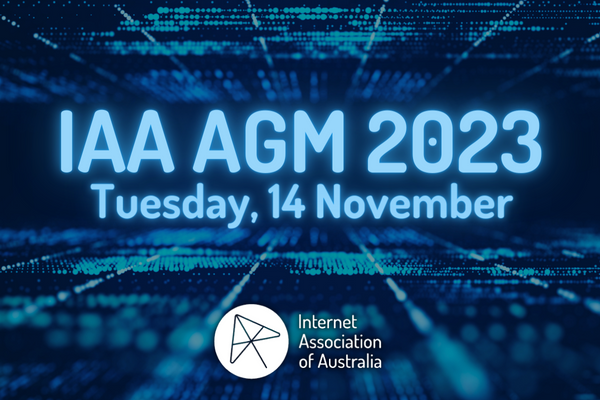 Candidate statements for the nominees to the IAA Board are detailed below. Statements are listed in the order they are received.
The nomination period for the Internet Association of Australia Board election is now closed.
Karl Kloppenborg – Professional Member
Nominated for 3-year term
Over the last 12 months I've been active in policy changes within the APNIC system, most notably instrumenting the recent bylaw changes.
Now that this has passed (with flying colours!) I am looking towards where I might be of value to the community. I have over 15 years in the internet community of Australia, in various capacities and I believe many would already know what I stand for, for those that don't, I've long been a vocal advocate for the rollout of IPv6 and equally an open and fair internet for all. Having also been the co-admin of B4P (which is Australia's largest private telco community), I've spent time listening to many members voice their opinions on how the IAA functions, how it could change for a positive and believe I can take this advice from members to help make meaningful improvements to the IAA community, as such, I am nominating myself for the IAA board. I would appreciate the support from the community in this process, I know that many of you have seen the positive impact I've already had on APNIC, I'd like to now work in that same mindset to the benefit of the IAA.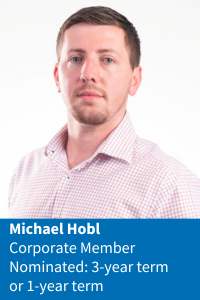 Michael Hobl  – Field Solutions Group – Corporate Member
Nominated for 3-year term or 1-year term
Across the past decade I have taken an active role in participating within the industry through multiple initiatives, which alongside experience at a wide scope of companies of various scale involves telecommunications consulting, the establishment of two WISPs servicing regional and underserviced areas, the establishment and growth of the Beer4Peer Slack community, and active participation within the AusNOG community including presenting at AusNOG 2023.I think that my experience and insights can provide a very tangible benefit to the growth of IAA through assistance with strategic direction and analytical developments. I strongly feel that I can make meaningful contributions on the development of internal policy, oversight of architectural frameworks and member transparency. I have a breadth of industry relationships, my finger on the pulse, and can see things through the lens of the next generation which would be complementary to the other members who would be participating alongside me on the board.Some areas I would like to see growth in include member outreach, additional transparency to members and development of further engagement initiatives for non-members, such as the expansion of the IAASysters program and targeted acquisition of prospectives who could provide net benefits to the existing IAA member base.My insight will prove to be a valuable contribution to the IAA Board, and I hope that you will consider my candidacy.
David Hooton – Professional Member
Nominated for 3-year term or 1-year term
I have been on the board of IAA since 2017 including a 3 year period as Chairman. I currently also serve on the Finance Committee. I have a passion for this industry and have been working in the Telco and ISP industry in one way or another for the last 23 years.Over the last year the board and the IAA Team have been focused on maturing our internal systems and processes including the release of our new members portal and significant improvements to software, security and our budget and reporting processes.If re-elected this year my focus will be on broadening the associations reach within our member organisations and on mentoring younger members of the industry who might be interested in serving on the board with us in future.The board and I would like the chance to continue the work we have been doing. Continued stability in our boards composition is important to ensure momentum in the day to day operation of the association, we thank you for your membership and continued support as we ask for your vote.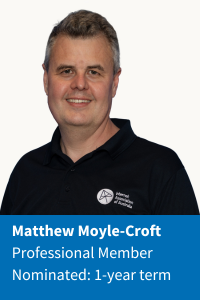 Matthew Moyle-Croft – Professional Member
Nominated for 1-year term
I have been a member of the IAA board for five years and am nominating for a further year to continue helping the association and allow board transition. I have been on the Finance and Audit committee since its inception.I have been involved in the internet industry for most of my career and have been involved in various organisations over that time. I have been responsible for peering and interconnection for number of organisations across all inhabited continents and as such have a deep understanding to help the association's board strategically.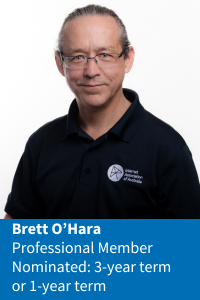 Brett O'Hara – Professional Member
Nominated for 3-year term or 1-year term
I have been a member of the IAA board since 2019 and am currently serving as the Deputy Chair and Chair of the Finance committee. I have been a participant and advocate in the telecommunication industry for over 30 years working across a wide range of companies including startups, Australian industry leaders and International communication providers.I am proud of the work the board and the staff have achieved in the last year. The financial planning and reporting continues to improve. The technical achievements and stability of the network are a credit to all involved. Our engagement with community and advocacy supports members in their day to day business more than ever.If the members would choose to re-elect me for another term, I will continue to provide guidance and assistance to the Association to improve the Internet in Australia for members and the greater community.
Fraser McGlinn – Professional Member
Nominated for 3-year term or 1-year term
My broad and international professional experience, spanning multiple economies, including New Zealand, Australia, and over the most recent years in the Philippines, has shaped my core values and my understanding of what the sector needs most.I am actively involved in a grassroots ISP, with a mission to "Accelerate Internet for the Philippines and improve its connectivity for all Filipinos". Central to the mission is the operation of the Philippines' largest Internet Exchange. Fostering relationships and community engagement have been key to its continued success. "When we share everyone wins."I firmly believe in upholding the founding core values of the Internet, which include fostering a sense of community, promoting inclusivity, and upholding respect.My involvement in the industry in policy, technical & operational positions, over the years has further deepened my belief in these values.As a board member, I am committed to promoting these principles in real and measurable ways.I am dedicated to the evolution of the existing outreach and mentoring programs such as IAASysters. They are vital to providing opportunities for young people or those who are new to the field to be mentored. These programs encourage talent development, engagement, and cohesion within the profession, ensuring that it remains vibrant, diverse, and competitive.

I will advocate for policy development as I believe it is the backbone of our industry and shapes its future. I am fully aligned with the IAA's existing work in this area and will actively support its advancement. Forums for discussing Internet-related issues are essential for cooperation, community-building, and further fostering a culture of self-governance.

Our industry's strength lies in its community. I am dedicated to cultivating greater cooperation, inclusivity, and collaboration within the sector.

I appreciate your consideration and ask for your support.
Thank you to all of our members for attending and voting in the 2023 Annual General Meeting.
Join a community of like-minded individuals dedicated to making Australia's Internet better.
Enquire Now
1300 653 132