Learning and growing together – IAASysters 2022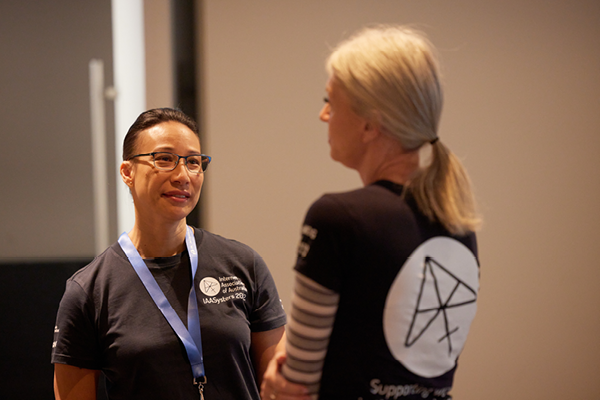 We're happy to report that the IAASysters Workshop was a resounding success. This year, we brought 17 women, at different stages of their careers, to our one-day workshop and the AusNOG conference that followed. With overwhelmingly positive feedback from attendees and sponsors, we couldn't be more pleased with the positive effect the program has had on these women. But don't just take our word for it; take theirs:
"This workshop was something I didn't realise I needed, but coming out of it, I can confidently say that I definitely needed it. Extremely educational, motivational, and supportive. I'm grateful to have been sponsored to attend, and I hope I can attend again in future."
"I love how the workshop planted a seed in my mind that I deserve this role/career. I am awesome. This really helps me push through and say I can do this. I can continue to be an awesome network engineer! Really appreciate the support I felt and saw. Thank you so much!"
The Workshop was a day of learning and developing, starting with the talented Cheryl Alderman from Be Ultimate Coaching. Cheryl ran the two-part career planning session teaching the Systers to know their worth, stay relevant, find a mentor, acknowledge their skills, and so much more. After some good old fashion chit-chat over lunch, Narelle ran the Safety in the Industry session, discussing some of the issues that women in our industry face – an important session to remind people to speak up and know that they are not alone. Sarah Denholm from Improve Your Public Speaking followed soon after to run her two-part session, Presentation Skills for Results. Her session covered many key aspects of public speaking, from first impressions to self-talk and self-priming to engagement challenges and connection. It was great to look around the room and see all the attendees participating and learning.
Of course, none of this would be possible without the continued support of our wonderful sponsors: Amazon Web Services, Aussie Broadband, APNIC and AusNOG. Our sincere thanks to you all for your sponsorship of the IAASysters program; your support is truly helping to make a difference for women in the Internet industry.