Brisbane IAA Convergent Event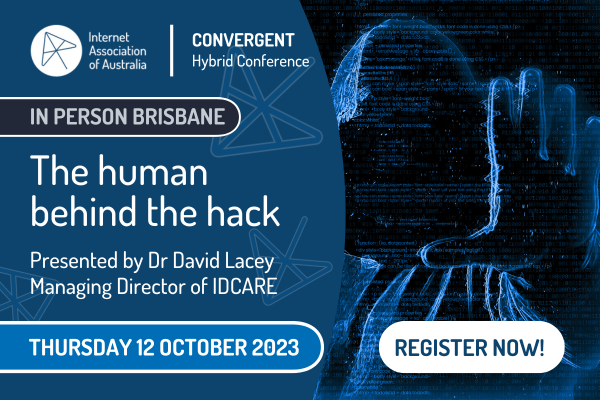 The human behind the hack
Date: Thursday, 12 October 2023
Time: 5:30pm – 9:00pm AEST
Location: Cloudland | Alice Room | 641 Ann St | Fortitude Valley | QLD

IAA Members are invited to join us for this In-person IAA Convergent Presentation and Social Event. Dr David Lacey, Managing Director of IDCARE, will share his expertise on cybersecurity, providing advice on data privacy, breaches and how we can all better protect our data.
Registrations open at 5:30pm. Enjoy complimentary beverages and canapes before David's talk, taking place from 6pm to 7pm, and at the IAA social event that immediately follows. IAA members are welcome to invite guests. Corporate members can register themselves and an additional 7 guests, either internal or external to their organisation.
Professional members are able to invite one additional guest. All registrations need to be completed via the IAA Member Portal by the inviting member. Please note that dietary restrictions can only be taken into consideration for registrations received prior to 29 September 2023.
By RSVPing for this event, you are agreeing to comply with IAA's Code of Conduct – Events.