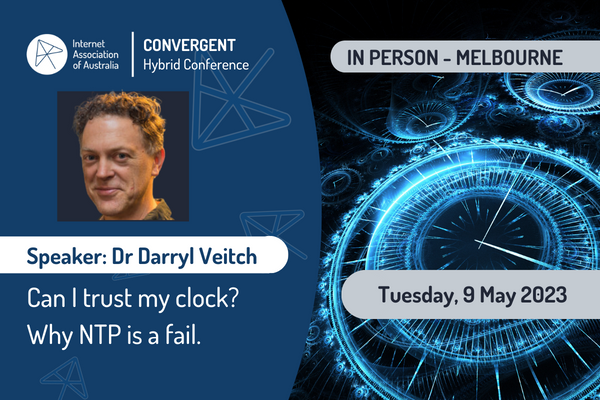 Details
Date: Tuesday 9 May 2023
Time: 5:30pm AEST Registration Opens | 6:00pm AEST Presentation | 7:00pm AEST Social
Location: Garden State Hotel | The Observatory | 101 Flinders Ln, Melbourne VIC
Join us for our in-person Convergent 2023 Melbourne event! We'll hear from Dr Darryl Veitch who is set to discuss Network Time Protocol and its worthiness as a synchronisation tool for equipment and services. Garden State Hotel's premier function space, The Observatory, will provide the backdrop as Dr Veitch details his extensive measurements, taken over many years, that demonstrate just how bad Network Time Protocol is, and proposes a new way forward. 
Registrations open at 5:30pm. Enjoy complimentary beverages and canapes before Dr Veitch's talk, taking place from 6pm to 7pm, and at the IAA social event that immediately follows. 
IAA members are welcome to invite guests. Corporate members can register themselves and an additional 7 guests, either internal or external to their organisation. Professional members are able to invite one additional guest. All registrations need to be completed via the IAA portal by the inviting member.
 
By RSVPing for this event, you are agreeing to comply with IAA's Code of Conduct – Events
ACCESS NOTES: The Observatory is accessible through a lift located inside the hotel's restaurant Tippy Tay. There will be a functions bollard sign positioned outside the venue and  guests will  be escorted to the lift area by host.