Lawful Intercept on the Cheap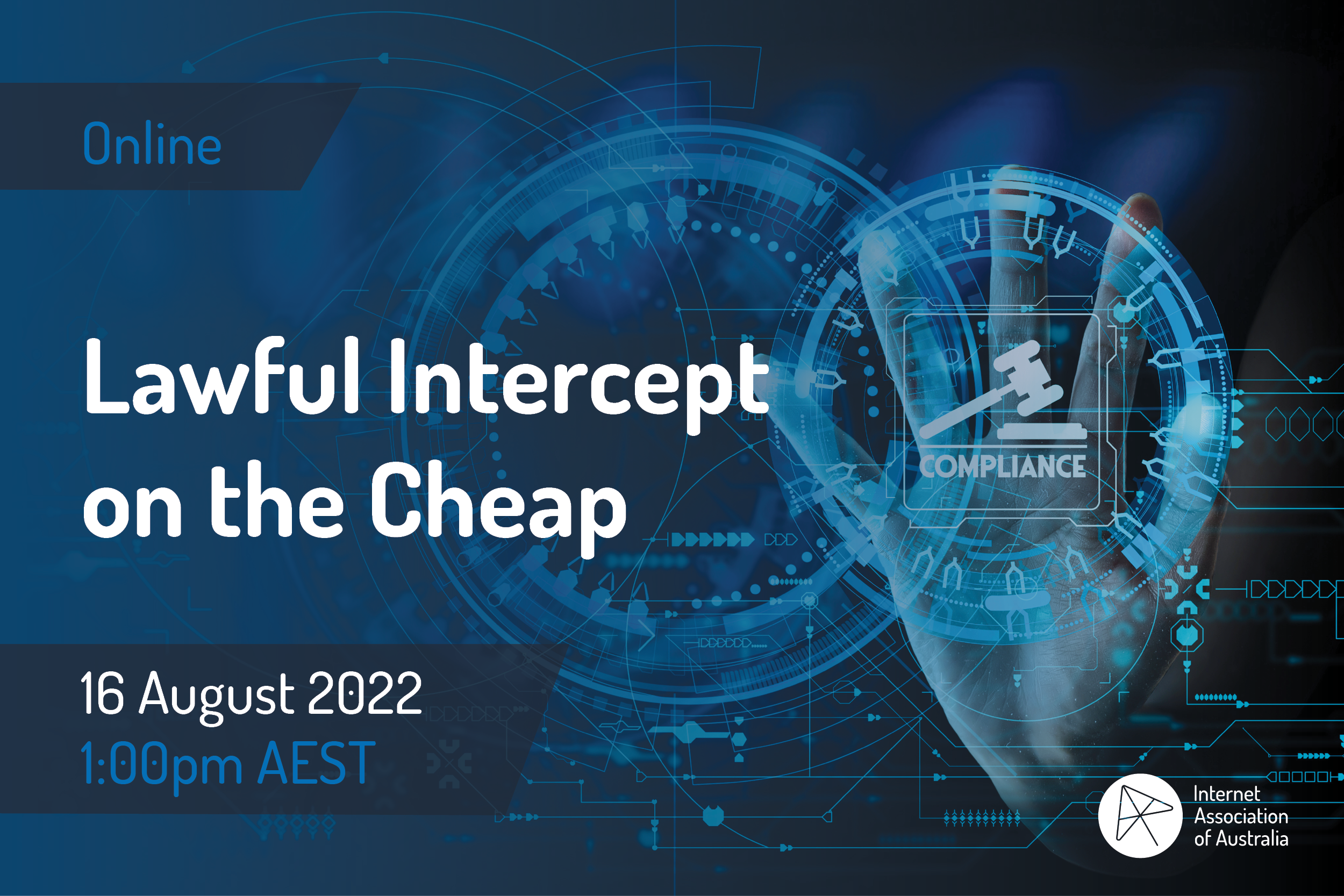 Join us as our panel of experts explore the requirements of lawful intercept within the Australian context and demonstrate an open source approach to meeting your obligations.  
During this online session, you will hear about the creation of the OpenLI project, ETSI lawful intercept standards and how they are implemented through OpenLI software, and hear from a leading network consultant as he shares his experience deploying OpenLI in ISPs.  
The session will conclude with an engaging discussion in which the panellists present their current unknowns about the Australian intercept landscape allowing attendees to share their unique intercept challenges.  
Lawful Intercept on the Cheap 
Date: Tuesday, 16 August 2022 
Time: 1:00pm – 2:00pm AEST / 11:00am – 12:00pm AWST 
Location: Online via Zoom  
Moderator
Narelle Clark – Internet Association of Australia Ltd
Narelle Clark is Chief Executive Officer of the Internet Association of Australia, a not-for-profit telecommunications carrier operating internet exchanges across Australia and New Zealand. Ms Clark has a broad technical and strategic view of Internet scale ICT delivery, having been a user, builder, operator and researcher of Internet networks through her extensive career with major telecommunications companies, research agencies and consumer bodies, as well as a leadership and governance background in the not-for-profit sector. She is an Honorary Fellow with the University of Wollongong and holds a seat on the board of the Public Interest Registry, which operates the .Org top-level domain. Ms Clark was also a Trustee of the global Internet Society from 2010-2016.

Panellists
Dave Mill – SearchLight Ltd
Dave Mill is a Network Consultant at SearchLight Ltd, but also cameos as the token figurehead and industry advocate for the OpenLI project.
Dave has worked in the NZ ISP industry for 20 years. For his main day-to-day role, Dave is a network consultant to ISPs and Enterprises, part of which includes the deployment of OpenLI. Dave has unique experiences to share from deploying intercept software in a variety of different ISPs with unique set-ups and requirements.
Richard Nelson – University of Waikato 
Richard has been a researcher in the networking area for 30 years and led the network research group (WAND) at the University of Waikato. He founded the OpenLI project with funding from NZ ISPs to develop the software. Richard has now left the University and is working on ensuring the long–term success of the OpenLI project, among other things.
Shane Alcock – University of Waikato 
Shane has been the lead developer of the OpenLI software since the project began in 2018. He has been a research programmer with the WAND network research group at the University of Waikato since 2005, specialising in writing open-source software to passively capture, analyse and understand Internet traffic. The software written by Shane is used by a number of highly renowned researchers in the Internet measurement field, including researchers at UCSD/CAIDA, Georgia Tech and ISI/USC. 
Sophia Joo – Internet Association of Australia Ltd 
Sophia Joo is IAA's Policy Officer, responsible for everything that happens in the advocacy corner. Joining IAA in 2021, she brings previous experience as a paralegal for Yahoo Australia and further experience from an internship with the Environmental Defenders Office. Sophia has a Bachelor of Arts, majoring in Political Economy, and is awaiting to receive her degree in Bachelor of Law. She is currently completing her Graduate Diploma of Legal Practice to be admitted as a lawyer. 
Mark Parncutt – Australian Federal Police
Mark is the Officer-in-Charge, Surveillance Integration Delivery, with responsibility for the collection, processing and presentation of lawful intercepts at the AFP. He has a background as a software developer, systems administrator and digital forensic analyst in law enforcement for the past 7½ years and in the private sector prior to that. Mark is passionate about the difference that lawful intercepts make to law enforcement operations and has contributed to innovation in both technology and policy through inter-agency and industry forums.