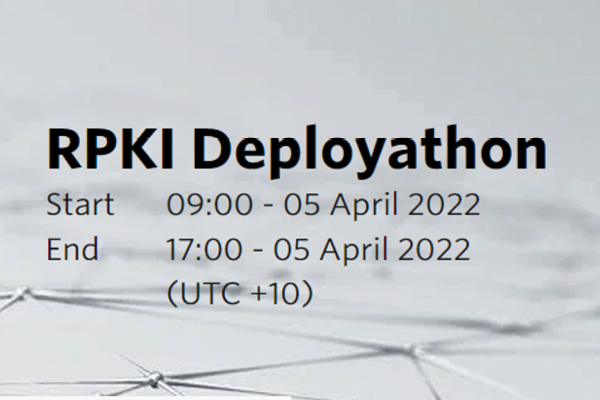 This year's RPKI Deployathon builds on the previous Deployathons held at APNIC48 (Chiangmai) and APRICOT2020 (Melbourne).  
Event details
Date: Tuesday 5th April
Time: 9.00am – 5.00pm AEST
Location: Cliftons Sydney, 13/60 Margaret Street, Sydney, NSW, 2000 
This event will be face-to-face guided by facilitators; participants will discuss/debate and work on: 
properly signing ROAs for your address space (based on what you announce/accept in BGP); 

 

install and configure different RPKI validators (diff the validated outputs and under the hood defaults?);

 

connect routers to the validators (multi-vendor infra); 

 

configure infrastructure to implement ROV (to drop or not to drop?).

 
Participants will analyse the outcomes of each step and summarise any improvements in operational processes to achieve these outcomes. The summaries/findings of each activity will be presented as a lightning talk at AusNOG (PC and time permitting). 
Participants will work with different validators, including Routinator, FORT, rpki-client, and rpki-prover, with accompanying routing implementations for IOS-XE/XR, JunOS, SR-OS, EOS, and others (BIRD, FRR). 
Participants must meet the pre-requisites to join, and there is a maximum number of 50 attendees, so don't delay your registration! For more information, please see the APNIC Academy Events page.