Advocacy Corner Update – August to November 2023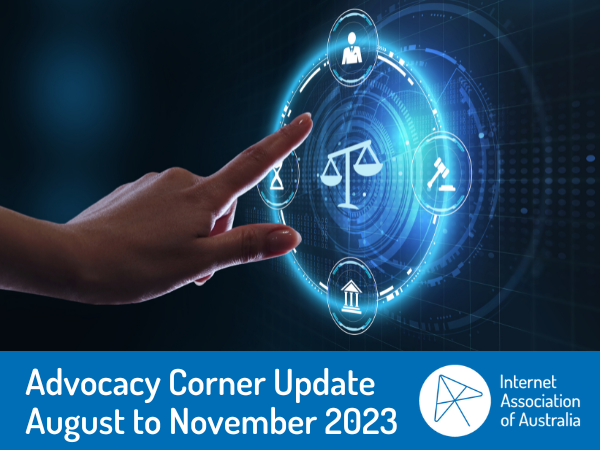 Amidst all the events going on over the past few months, our Policy Team has remained busy – attending the regional, and Australian Internet governance forums, meeting with government bodies and regulators on upcoming policy matters, and holding PPAP meetings of our own!
It may be of some satisfaction, or relief that the NBN Co SAU review is finally over. After years of discussing sticking points and compromises, we hope that this SAU will deliver real benefits to you, and to your end-users. We wish good luck to those of you who are now working on adjusting operations and offerings accordingly. NBN Co have also published further pricing information including its roadmap to 2026, to assist RSPs. The documents are available on the NBN Co website.
A reminder that changes to the unfair contract terms regime kicks in from 9 November 2023, widening the scope of those who would be covered by the legislation as well as massively increasing the penalties. Make sure that your standard form contracts don't contain unfair provisions, or you could be hit hard with penalties!
As the year comes to a close, we have lots of consultations going on. Of note, the government is proposing a registration scheme for carriage service providers.  While members so far have expressed mixed thoughts on the CSP Register, one thing that has been clear is that any new framework will have to be dedicated to making registration an easy, efficient and effective system and not onerously burdensome so as to stifle the growth of smaller entities, or stop new entrants into the market.
ACMA is also consulting on the creation of a new Financial Hardship Standard, to replace the equivalent industry code. This is part of the contentious movement towards direct regulation we've been seeing of late.
As always, please get in touch to share any thoughts on any of the open and/or previous submissions; we appreciate your feedback.
Completed Submissions:
Alternative Commonwealth Capabilities for Crisis Response | Department of Home Affairs
The Department of Home Affairs conducted a consultation on the role that the Commonwealth Government should play during times of national and/or natural crises.
In our response, we recommended that the Commonwealth Government should play a greater role in coordination between State and Territories, work to harmonise inconsistent laws where possible, and/or contribute to greater information sharing to assist industry and communities to navigate different frameworks and systems across States and Territories during times of crisis.
Upcoming Submissions:
Privacy (Credit Reporting) Code 2014 | Australian Retail Credit Association | 16 Nov 2023
Proposed Telecommunications Financial Hardship Industry Standard | ACMA | 24 Nov 2023
Integrated Public Number Database Code | Communications Alliance | 24 November 2023
Unfair Trading Practices – Consultation Regulation Impact Statement | Treasury | 29 Nov 2023
Carriage Service Provider Register | DITRDCA | 30 Nov 2023
Welcome Chris Enger to the Public Policy Advisory Panel!
We are extremely pleased and excited to announce Chris Enger to the IAA Public Policy Advisory Panel. Chris is the Operations Manager at Leaptel and brings over 5 years' telco experience, particularly working as part of an RSP. He has already provided us with great insight to help inform a number of submissions, including a review of the TIO and the superfast broadband network, providing us with an RSP perspective on these matters.
The Panel is an advisory body of IAA Members that help inform our public policy and advocacy work. Since forming in early 2022, we have met quarterly to discuss live and upcoming telco policy matters.
We had our final meeting for 2023 in mid-October where we discussed a number of pressing issues, including the proposed registration scheme for Carriage Service Providers, which will no doubt affect many of you.
If you are interested in the work of the Panel, please visit our website. If you would like to join the Panel, please reach out at policy@internet.asn.au.