Are you complying with the new Online Safety Codes?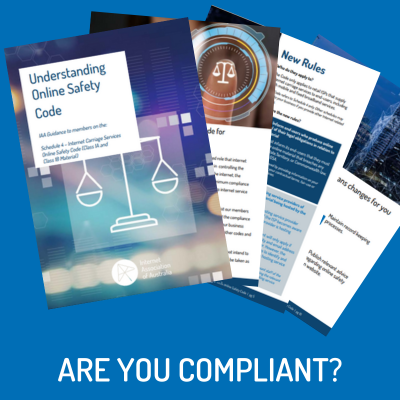 As of 16 June, the eSafety Commissioner registered five Online Safety Codes, for different sections of the Internet industry, including Internet carriage services.
The Codes, implemented under the Online Safety Act, are designed to improve the safety of the online environment, particularly with regard to content involving child sexual abuse, terrorist acts, extreme violence and other material inappropriate for children.
Schedule 4 – Internet Carriage Services Online Safety Code (Class 1A and Class 1B Material) (Code) applies to retail ISPs that supply internet carriage services to end-users, and introduces new compliance measures for applicable ISPs.
We have created a guidance material that you can find at the IAA Website to assist our members understand the requirements of the Code so that you can implement the necessary changes to ensure you are compliant.
If you have any questions, don't hesitate to email us!